Choice Visits in Yorkshire and York
New treasure box of Yorkshire goodies
Hackfall Gorge gets glowing coverage in 'Choice Visits in Yorkshire and York', the first Kindle general guidebook on Yorkshire, published late March 2012. Such e-books may soon take over the guidebook world, some people think, because they're so easy to carry and can so quickly be updated. You can read this book without a Kindle – just download a free Kindle application on to a PC, a Mac or any e-book device.
'Choice Visits' chooses Hackfall Gorge as part of a carefully mixed bag of historic towns, castles and stately homes, Dales and Coast walks, North Sea boat trips, natural wonders, follies, inspiring gardens and seaside activities. Here's Hackfall in a nutshell, according to the book:
"Near Masham, a free access walk round a dramatic, natural gorge where waterfalls and streams fall huge heights down a precipitous hillside of wild woodland. You stumble across ruins of what was once England's most spectacular Romantic era garden. Here and there, deep in the undergrowth, lurk ruined turrets and gazebos, lost cascades, and mossy seats which still catch poetic vistas. Here and there too, old garden features are being skilfully restored by a brilliant project team. A long silent ancient fountain now surprises visitors by suddenly throwing up a very high, brief water jet, just as in the garden's heyday." And, yes, the author did experience that surprise himself, for every entry in this large, 17 chapter book is based on actual visits.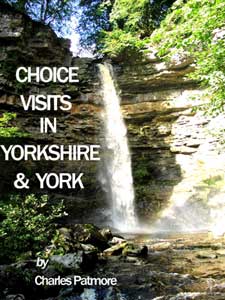 Another distinctive aspect of this book is that almost every entry can be reached by public transport. For Dales walks, for instance, it has selected walks which can be reached via the Settle-Carlisle scenic railway. For Hackfall Gorge, it cites bus travel from York or Leeds to connect with that occasional 137 bus from Ripon to Grewelthorpe on the way out. Then leave Hackfall by walking to Masham by the footpath along the Ure in time for the last 159 bus back to Ripon. That's what the author did. The book praises Traveline Yorkshire as a wonderful key to public transport to many out-of-the-way places. When he began the book, the author expected that only a minority of his selected places would be reachable by public transport. But Traveline Yorkshire showed otherwise.
Hackfall's sister garden, Plumpton Rocks, is also in the book. It too is an 18th century Romantic rugged landscape garden. Just as Hackfall was created to contrast with Studley Royal Water Gardens, so Plumpton was developed by Harewood House's owners to keep up with this latest garden fashion. Studley Royal and Harewood are also in 'Choice Visits', which includes a string of 17 special Yorkshire gardens, quickly findable within the e-book via clickable links. Besides gardens, the book includes over 20 other such themes on electronic links – like 'Animals, birds and sealift' visits, 'Heritage industry' tours, children's interests and activities for bad weather.
York gets four full chapters. Flamborough Headland also gets particularly thorough coverage. Yet another focus is Yorkshire's more unusual events, like Scarborough's mock naval battles, Knaresborough Bed Race, York's illuminations festival in October, and the descent down Gaping Gill in that little metal chair.
A large free sample of 'Choice Visits in Yorkshire and York' by Charles Patmore can be viewed on www.amazon.co.uk/dp/B007P269ZQ , where the book can be bought. Until 30 April 2012, introductory low price: £3.71.