The Landscape Agency
The Landscape Agency were appointed by the Hackfall Trust and Woodland Trust to act as Historic Landscape Advisors and Landscape Consultants in 2002.
They completed work in Spring 2008 to restore the Grade I listed woodland gardens at Hackfall Woods to their original splendour.
This … was the culmination of almost six years' work for the Landscape Agency and our team of conservation architects, landscape historians, hydrologists and ecologists. Hackfall was a major tourist attraction in the late-18th and 19th centuries, the woodland setting providing the perfect setting for Aislabie's paths and vistas that lead to numerous romantic follies (recently restored), breathtaking water features and cascades throughout the wooded valley.

The consultant team worked together to oversee the implementation of the works funded by the Heritage Lottery Fund to partially restore key aspects of Aislabie's designed landscape, facilitate public access and improve habitat quality.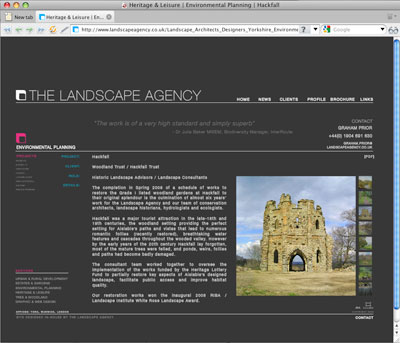 The team won the 2008 an RIBA White Rose Award for their work at Hackfall.