Turner Painting
Hackfall painted by
Joseph Mallord William Turner
Probably painted c.1816 and based on a sketch made by Turner during his tour of central Yorkshire in August that year. Hackforth is a valley of the River Ure, five miles north-west of Ripon. The small building in the mid-distance may be the Fisher's Hut, one of a number of structures built by the landowner William Aislabie before his death in 1808. On the distant hill is a folly, Mowbray Castle.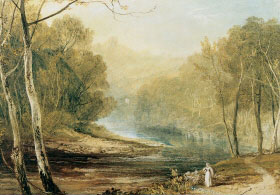 Copyright of this image and of the words used in the quotation remains with the Trustees of the Wallace Collection.
It is being used here for educational use as allowed by the terms of the Wallace collection's copyright statement. For further details visit here.
A photographed taken Easter 2009 from approximately the same point.