Friends of Hackfall open meeting
Wednesday 4th July 7.30pm Grewelthorpe School
Are you interested in helping conserve the wildlife, landscape and beauty of
Hackfall? Come along to find out more about the restoration and engagement project at
Hackfall and how you can volunteer / support the Friends of Hackfall.
For details please contact:
Paul Mosley, Hackfall Officer
T: 0845 2935847
e: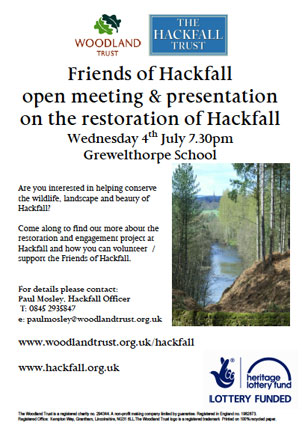 Hackfall Volunteers
July, August and September 2012
Thursday 5th July – 10.00am-3.00pm – Bracken clearance.
Wednesday 25th July -10.00am-3.00pm – Path work.
Thursday 16th August – Water features work.
Wednesday 5th September – Vista clearance.
Meet at the Woodland Trust Car Park on the Masham to Grewelthorpe road.
Please bring suitable waterproof clothing, wellies and packed lunch / a drink.
Under 18's welcome if accompanied by a parent or guardian.