The Banqueting House Restoration
More photographs of the restoration are available here: Restoration Photographs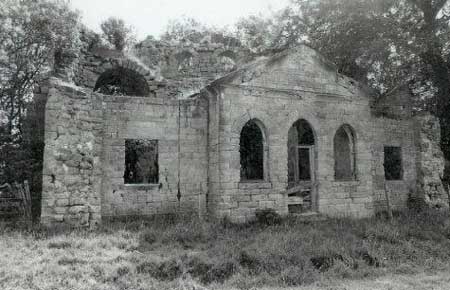 The Landmark Trust became aware of the Banqueting House in 1989 and it finally acquired the property in 1999. By this time the building had literally fallen into disrepair. The Trust set about obtaining funding for renovations and a team of experts, including architect Andrew Thomas, was appointed to prepare plans and obtain any necessary permissions.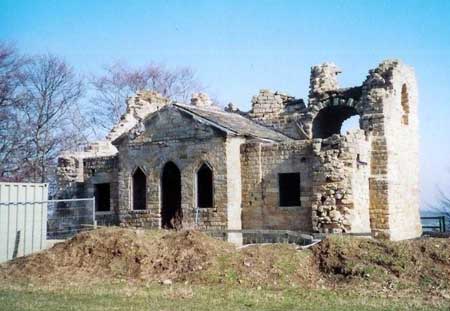 Essential remedial work to stabilise the structure were soon underway. The Landmark Trust then progressed work as fast as possible as funds became available with the main work starting in February 2002 when the stone mason John Maloney and his team got to work on the building. John has considerable experience of this kind of renovation work having completed projects on many of North Yorkshire's ruins including Jervaulx Abbey. Progress, at first, was relatively slow as with each area of stonework that was removed more problems were revealed.
The site is exposed and in order for work to continue through the winter it was soon apparent the some form of shelter would be required.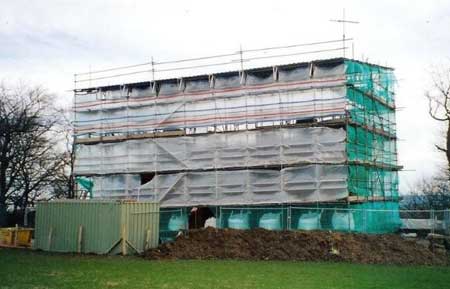 By Autumn 2003 the access track had been put in from the Masham road and water and electricity had been brought to the building. The roof covered with York stone slabs was completed and the rooms had started the drying process that would be necessary before they could be finished and decorated.
The restoration of the Ruin was funded through the generosity of English Heritage and many grantmaking trusts and foundations, including the Hackfall Trust, Normanby Charitable Trust, Monument Trust and Esmee Fairbairn Foundation. We are also grateful to the numerous individuals who gave donations to the project through the Landmark Appeal. The Landmark Trust
The completed restoration has won several awards including the Building Conservation category of the RICS Yorkshire Regional awards in 2006.
There was an excellent article by Alastair Dick-Cleland of The Landmark Trust in issue 1 of the Hackfall newsletter which can be downloaded from here. Hackfall Newsletter 1 from Autumn 2003