The Banqueting House Design
Did Robert Adam design, The Banqueting House at Mowbray point?
In this article we look at some of the evidence that shows that he at least had an influence on it.
This "Design for a Capriccio of a Roman Ruin" presumed to have been for Kedleston Hall in Derbyshire, by Robert Adam painted in England, 1754-58. This painting is currently in the V&A museum.
Note: A Capriccio is a composition and in the case of a painting is used for a composition which is an architectural fantasy.
It is known that …"Adam designed numerous temples and follies [for Kedleston], many of which were never built." Bygonederbyshire
The Baths of Diocletian had a remarkably similar overall outline to the Adam sketch but lacks the ruined dome. Etching made by Etienne_Du_Pérac in the 16th century.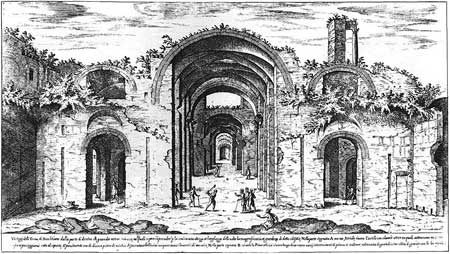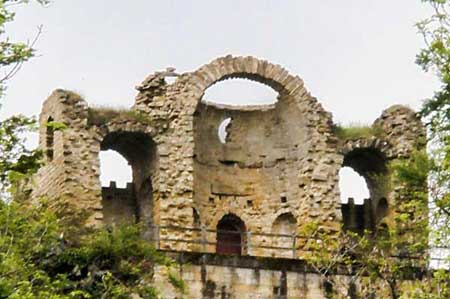 There is a very strong probability that Robert Adam visited and sketched the Baths of Diocletian and Hadrian's Baths. He was in Rome from 24th February 1755 until May 1757 and during this time was dedicated to studying and sketching Roman architecture and ruins. He also employed artists and draughtsmen to produce accurate illustrations for him.
No direct evidence that Robert Adam was directly involved in the design or construction of The Banqueting House has come to light but there some circumstantial evidence that he either was or that William Aislabie copied his ideas. It is known that Adam did a tour of estates where he presented his illustrations from his time in Rome in order to sell his services as an architect.
It was assumed that the Adam painting "Design for a Capriccio of a Roman Ruin" was for a folly at Kedleston Hall in Derbyshire partly because it was in a folio of other designs for the estate. The building was never built in Derbyshire and there is no other link between the picture and Kedleston.
Aislabie is listed as a subscriber in Robert Adam's book "Ruins of the palace of the Emperor Diocletian at Spalatro in Dalmatia" which was printed for the author in 1764. He therefore had access to the very detailed diagrams and architectural illustrations contained in the book.
Robert Adam produced designs for two ceilings for William Aislabie at 12 Grosvenor Square, London and there are indications that the work was completed based on descriptions of the ceilings at the time that the building was later demolished. Adam was also architect for another London building owned by William Aislabie in 1776, at Tenterden Grove, Hendon.
It is possible that William Aislabie at least saw Adam's painting and he certainly also had access to other detailed architectural drawings published by Robert Adam. If the design was not directly by Robert Adam then it is likely that William was "inspired" by Adam's designs.