Mowbray Castle
Mowbray Castle at Hackfall is a mock ruin thought to have been built for William Aislabie some time between 1750 and 1767. This is confirmed by Gilpin's 1772 description which is not terribly complimentary about the castle.
The ruins of a castle too, if they could be executed with veri-similitude and grandeur, might adorn the rocky promontory on the right with propriety. The present ruin is a paltry thing.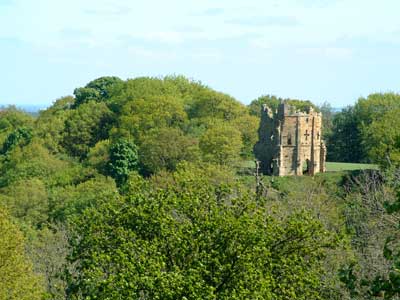 It is thought that it was designed as an eye catcher, something to be seen from a distance and not visited close up. The above picture was taken from the terrace at the front of the Banqueting Hall. The sun highlights the castle beautifully on a sunny afternoon.
Perhaps it was inspired by The Kings Tower at Knaresborough Castle which had been in a semi demolished state for over 100 years by the time William Aislabie was having Mowbray Castle built.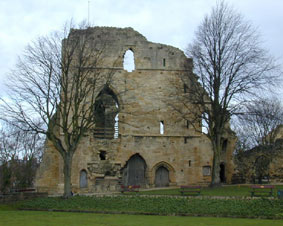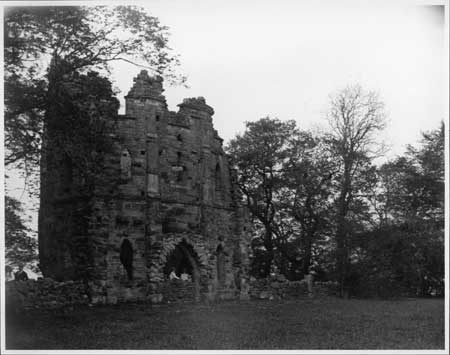 The black and white picture above shows Mowbray Castle C1910 and is from the Grewelthorpe photographic archive.
Two hundred and fifty years after it was built the locally quarried sandstone was becoming eroded by wind and rain and the core of the walls had been damaged with the lime mortar having been washed away. In July 2007 a specialist team of masons overseen by architect Linda Lockett set about reinstating the structural integrity of the building and stabilise if for the future.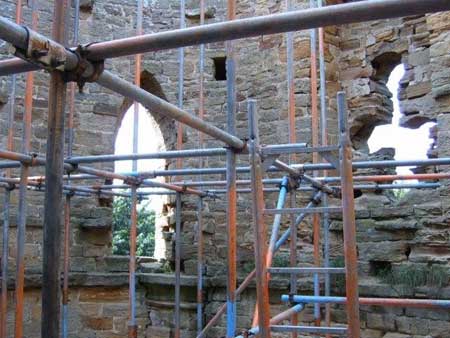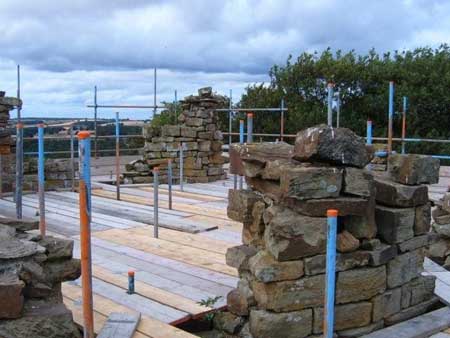 Renovation pics © Alison Brayshaw 2007
"It is hoped that the repairs carried out will enable the castle to remain standing for another hundred years and enable a new generation of garden visitors to enjoy this stunning eye-catcher." Linda Lockett Architect for the repair of Mowbray Castle and other buildings within Hackfall woods.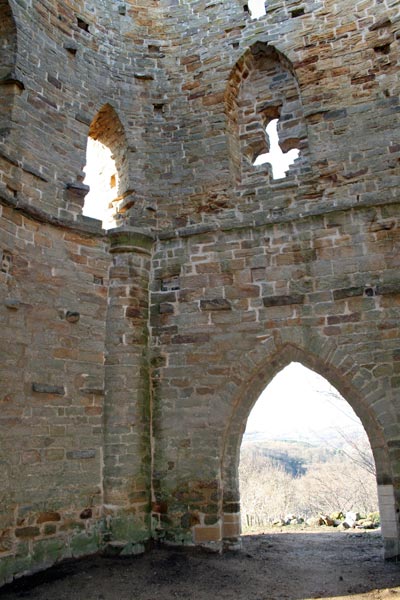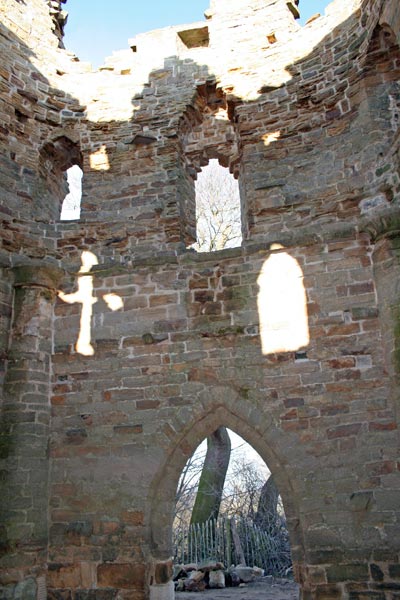 Close up pictures of the castle interior. © John Brady 2009