Lead theft from The Ruin
Good News! The damage is no repaired and "The Ruin" is once again available for a holiday with the view of a lifetime. June 2018.
The theft and damage occurred sometime from late Tuesday 20 Feb to early Wednesday 21. The best guess is that it was something like 6am to 8am Wednesday. The thieves had a van or pickup as there were tracks evident and appeared to leave in a hurry as tools and lump of lead were left on the roof. If you have any information please click this link to and I'll make sure the information is passed on to the right people.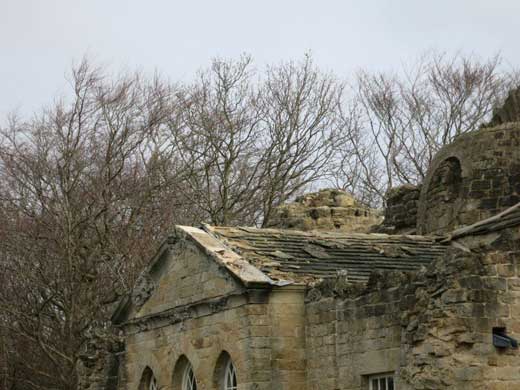 The lead is going to be replaced with a special stainless steel treated to be dull grey. Unfortunately this will not weather nicely like lead but is unlikely to be stolen.
Today scaffolding is meant to be going up with a roof over the building to protect it and so they can work in all weather. This will mean that access round the building will be closed and people will have to walk round by the perimeter of the field – probably avoiding trucks and vans for the workmen. The system for walkers allowing limited access to the terrace had been changed but unfortunately now walkers will not be able to have any access to the area around the building or the terrace until the work is completed.