Kent's Seat
Kent's Seat partially renovated Autumn 2008. It is opposite the Alum Springs and was the arbour or seat to sit on and view the springs.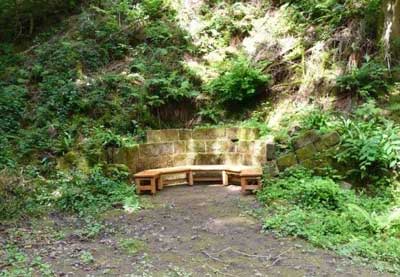 Kent's Seat partially renovated in Autumn 2008.
Kent's Seat – assumed to be in memory of William Kent – who introduced the Italian influence often taken from the paintings of the day to those on the Grand Tour. Walpole said 'he lept the fence and saw that all England was a Garden'.
Further information on William Kent here at UK Heritage and here at Parks & Gardens
William

KENT

1685-1748
"All gardening is a landscape painting" William Kent
"The father of modern gardening" Horace Walpole

Born in Bridlington, Yorkshire, in 1674, William Kent trained as a sign painter and apprenticed to a coach-painter. His ambition led him to London, where he began life as a portrait and historical painter. He found patrons, who sent him in 1710 to study in Italy; and at Rome he made other friends, among them Lord Burlington, with whom he returned to London in 1719.

There Kent designed and built furniture and temples on a classical theme for Burlington and his friends.
for William to name a small, probably classical, alcove situated before a lovely natural cascade at Hackfall after William Kent would be an appropriate acknowledgement of an important aesthetic debt which he very consciously owed to the previous generation" Journal of Garden History Oct-Dec 1987, Edward S Harwood 'William Aislabie's Garden at Hackfall'
Thanks to Alison Brayshaw for her help with this page and for her photograph of the partially renovated structure.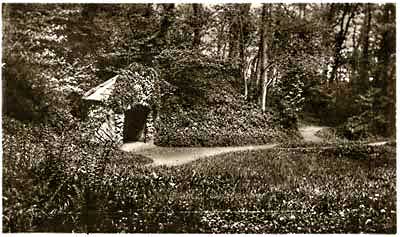 Kent's Seat in Victorian times.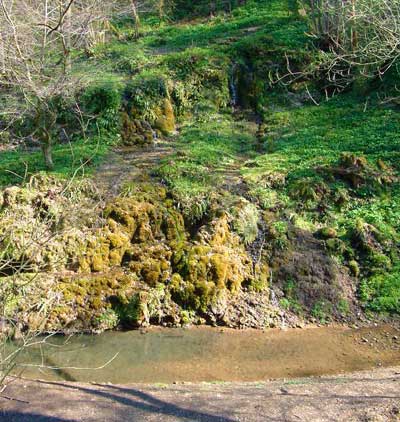 This view of the alum spring apparently reminded one of some part of female anatomy, either the scene has changed or the subtlety is lost to the modern day eye.